Vertical Response Review

,
We wrote this Vertical Response Review 2015 based on our extensive testing of their email marketing software. This is one of the most detailed Vertical Response Reviews available online. If you don't agree with this review of Vertical Response or if you have already used their software, please provide your comments at the bottom of the page.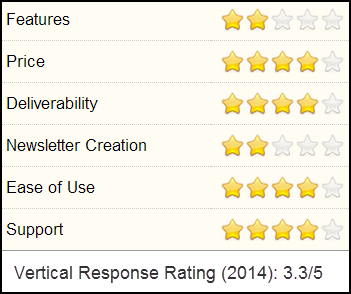 Vertical Response – Company Profile
Based in San Francisco, California, USA, Vertical Response was founded in 2001 and has more than 1,000,000 customers worldwide. VerticalResponse, a subsidiary of Deluxe Corporation received 2014 Gold Stevie Winner American Business Awards.
Features:
 2 out of 5
Vertical Response is in the process of revamping and has decided to offer a new version to its users. They still offer the older version which is now called Vertical Response Classic. Our review is based on testing their new version since it offers responsive templates. A lot of features which were offered with their older version are no longer available in the new version. It is quite possible that the missing features will be made available gradually.
Vertical Response offers basic email marketing features. It is easy to create webpage sign up forms and you can customize them in terms of changing colors, background, fonts, adding logos etc., however you cannot adjust the width or height.  You can automatically send an update via Facebook and Twitter using their social media integration tool. Their API offers integration with several online tools including Salesforce, SugarCRM, Magento and SurveyMonkey. The regular tracking tools are available with easy to view formats. Features that are not available with Vertical Response: Google Analytics integration, RSS to email, inbox preview, stock images, online storage, email archives, Android app (they do offer iphone app) and most importantly autoresponder. Without autoresponders, you can't really have an aggressive email marketing strategy.
Price:

4 out of 5
Vertical Response pricing is relatively low compared with others, however since most features that are available with the competitors are not offered, you may not be able to get the best value out of them.
There are two versions available for each plan – the basic and pro. With pro, you pay more per month and get these extra features:
Connect up to 6 Social Accounts (vs. 3 accounts with basic plan)
Dedicated Contact Person
Delivery Rate Improvement Review
Email Template with Your Logo
Vertical Response offers a generous plan for Non-Profit organizations i.e. 10K emails free per month and if they buy more, a 15% discount is also available for high volume senders.
Deliverability:
4 out of 5
This score will give you an idea about whether your messages will make it to the inbox if your subscribers. The higher the score, the better are the chances.  Based on the our investigation after checking a bunch of their IP addresses, their score is medium to high on a third party website. Overall, their deliverability scores are good. Here is our analysis of some of their IP addresses.
Newsletter Creation:
2 out of 5
Vertical Response offers an easy to use email editor. There are only a few templates that you can choose from (about 30). Hopefully they will add more gradually. The editor is a bit slow and took some time to load the templates when we tested it. The templates are responsive – which means they will display well on desktop as well as mobile devices.
In their new editor, you can preview your newsletter on desktop, mobile and tablet – a very helpful feature. Most other email marketing softwares have also started offering this features since the use of mobile devices has increased dramatically in the last year.
You can send yourself a test message to find out how your email looks like before sending it out to your subscribers. If you sync your social media accounts (Facebook and Twitter), an auto update will be posted on them when you send out your email. Social sharing is also available for FB and Twitter and a link to an online version of your email. However there are no email archives where all of your email newsletters can be stored together.
There are no stock images that you can use and no free online storage. There is no spell checker or spam score check. There is no inbox preview feature which lets you see how your email will look like on email clients like Gmail, Yahoo, Outlook etc.
Ease of Use:
4 out of 5
Vertical Response has an easy to use interface and you may have to go through a few tutorials in case you are having troubles understanding something.
Support:

4 out of 5
Vertical Response offers phone, email support, and live chat. Phone support is available Mon to Fri (6am to 5pm PST).  Email support and live chat are also available on the weekends between 8.30am to 5pm (PST).
Overall Score:

 3.3 out of 5
Conclusion:
CONS:
No Autoresponder
Automated spam check, spell check not available
Online archive of all emails together is not available
No stock images, online storage
No Android app
PROS:
iPhone application available to manage campaigns
Preview Email in Mobile Device
Good Deliverability
Vertical Response provides a basic tool for sending email broadcasts, however if you need an autoresponder i.e. sending a series of emails automatically, then you'll need to look for another provider. Several features are currently not available in the new Vertical Response, however it seems that they will be gradually added.
Visit Vertical Response Website
Go back to the home page (Comparison Chart)
RECENT VERTICAL RESPONSE UPDATES
April 29, 2015: You now have the option to remove the VerticalResponse logo that appears in the footer of your emails. This new feature gives you 100% control of your brand in all your email campaigns.
If you have used Vertical Response or if you don't agree with this Vertical Response Review, please provide your comments below. Your views will help others who are considering buying Vertical Response. Please note that if you click on a link and buy a product on this website, we may get paid incentives.