Infusionsoft Review

,
We wrote the following Infusionsoft Review based on actually using their email marketing software. Infusionsoft is not just for email marketing. It is an all-in-one tool including CRM, Email Marketing and E-Commerce. If you are looking for only an email marketing solution, then you may want to consider other options because the basic package of Infusionsoft starts at $199 – a little expensive if you are not planning to use the other components. However if you want an E-commerce plus Email Marketing solution, then read on. Please note that if you click on a link and buy a product, we may get paid incentives.(Review written by George K and Al Gera)
Overview of Infusionsoft
Automation and Email Marketing
Ecommerce and Shopping Cart
Affiliate Program
CRM
Price
Support
Conclusion with Pros and Cons
Overview of Infusionsoft

When it comes to e-commerce, email marketing and CRM there are very few software that can integrate all 3 features into one. Infusionsoft if a one of a kind business software and provides all these features for business owners of all type local business owners, internet marketers and even a national supplier. Personally what I love about infusionsoft is this:
The system allows me to track the behaviors of my email list, target my marketing to them and automate my whole email marketing services.
With their added support to help business owners create a complete customer experience and manage the sales cycle, Infusionsoft even provides weekly mastermind calls and quarterly accelerated training and events to help business owners increase their business.
Trainings from how to attract more traffic, capturing leads, nurturing prospects, converting sales and getting referrals. Every now and then they will even feature some of the big Internet Marketing names that utilize this system so well Such as Rich Shcefren, Dan Kennedy's team, Perry Marshall.
Automation & Email Marketing

(4 out of 5)
All email marketing services out there have some form of an autoresponder feature; however Infusionsoft takes a level higher where you have the ability to actually automate the process. You set it up once and just let it go and it doesn't matter how long you want the follow up sequence (equivalent of autoresponder) to go.
Set-up follow-up sequences and automate so that contacts are automatically added to other follow-up sequences based on their actions. Each follow up sequence has emails with automation links. When a contact clicks on an email, they are removed and added to the next sequence in line. At the end of the month if a contact hasn't clicked they are added to a longer sequence for non-active people. After 90 days they are deleted from the system.
Ecommerce Setup

(4 out of 5)
This feature will give you more multiple options when it comes to setting up your ecommerce site. It's a easily manageable because every step of the way is set-up as a separate process. Infusionsoft E-commerce system is setup to take orders, autobill customers or membership dues, receive payments and their easy to setup follow-up sequences makes it easy to stay in communication with non-buyers and buyers. As you can see from the image below when setting up your sales process it has been setup from the product setup, how you want to receive payments(don't forget if you can't get a merchant account paypal can easily be integrated into the system), shipping/fulfillment, etc.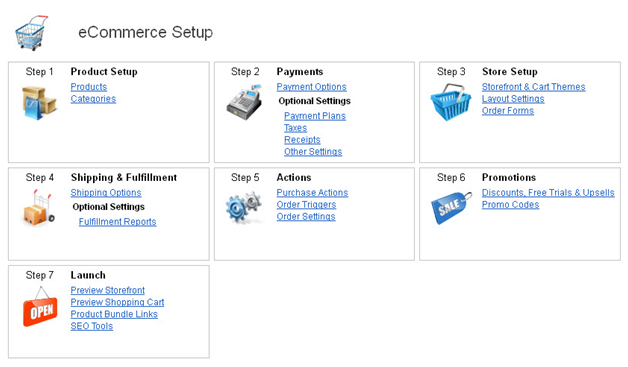 Product Setup: Users have the ability to create multiple products. In various categories. The system was recently updated to where duplicate name can't be saved under the same category just to avoid confusion.
Payment options:
Store Front and shopping cart
The Store Front functionality is where you can create your catalog with images, price and descriptions. This feature can be intergrated to the infusionsoft shopping cart.
Once a buyer selects the product they want they are directed to the shopping cart where they can pay for their order. This option gives you the ability to customize the look and feel so that it matches your website. Ability to sutomize infusion store from is a feature members requested so that the sales process looks like its on the same site. Most times when a buyer leaves the site they are more likely not to buy due to security reasons. If any product updates are made, the store from will automatically be updated.
The Shopping cart can also be customized with some options. It gives the buyer a summary of their order, sub total, tax and shipping(tax and shipping are features that can turned off). The shopping cart can also be setup through the Opportunity records where if you have a sales team that's taking orders they can use this functionality to take orders. The Shopping Cart integrates with online payment processors. These companies handle the financial end of the transaction – validating the credit card, charging the order, and depositing the funds into your merchant bank account.
With their April 2012 Spring Release infusionsoft updated some issues with the shopping cart…
For starters when a buyer's credit card is declined, they can no longer navigate backwards. This feature was necessary because certain users have actions purchase actions run when orders are placed. So if a buyer navigates back and forth multiple times, then this would set off the actions each time. Upsell feature was also updated to allow upsells to be added to the shopping cart and with a quantity number.
Shipping
When configuring your shopping art you will have to choose if you want default shipping options which are standard, priority, Overnight and international. You have the ability to combine shipping methods but they will all show up on the shopping cart and there is no way to hide them based on where a buyer is located or what type of product they are buying. Infusionsoft will give you the following options to choose from
Shipping features:
Charge flat rate shipping fees on the shopping cart
Charge shipping fees based on the specific product(s) in the cart
Offer a Shipping discount
Charge shipping fees based on the number of products in the cart
Charge shipping fees based on the cost of an order
Charge shipping fees based on product weight(s)
Product and service fulfillment notes to orders
Use UPS to calculate real-time shipping fees in the shopping cart
Fulfillment:
One of the great features with infusionsoft is that the order fulfillment process can be streamlined through the use of Fulfillment Reports. As soon an order is placed, Infusionsoft can automatically notify the person or company responsible for shipping the item. You have the ability to create multiple fulfillment reports – one for each fulfillment provider and the group of products they are responsible for shipping. You can even setup a third party company to handle the fulfillment or someone within in your team. So when setting your follow-up strategy you can even send out post cards, gifts or other mailings.
Purchase actions: allows you to create specific actions for each event. You can create actions that tag contacts as they log in. When they purchase successfully, you can create actions that send information to the fulfillment center, or they are added to a separate follow-sequence or they are registered for a membership site.
Affiliate Program

(5 out of 5)
As an internet marketer its important to create as many revenue resources as possible to make sure you have incoming sales and having an affiliate program is one way to set-up shop and watch the sales come. If Clickbank and other affiliate hosting services aren't an option, Infusionsoft provides a system to for you to enroll, track productivity and payout your affiliates.
CRM

(4 out of 5)
You can store all the information about your customers at one safe place. You can also import customer data from other popular applications. Start follow-up actions with a single click for any customer, schedule an appointment, and view sales and conversion reports. No lead is wasted in Infusionsoft CRM because you can easily find out at what stage of the sales funnel your customer is at so that you can easily use the automated features to convert the leads into paid customers.
Price (Infusionsoft Review):

3 out of 5
The minimum plan for $199 a month includes 5000 contacts, 2 users and 500k emails. The Plus plan is for $299 with 5 users, 20k contacts and 500k emails. Premier plan includes 10 users, 100k contacts and 500k emails. More email credits can be purchased as required.
Compared with other e-commerce solutions like 1shoppingcart, Infusionsoft costs more. However compared to all the features that come with Infusionsoft and their aggressive sales-oriented system, they are far ahead from their competitors. Infusionsoft is highly focused on making you become successful with your email marketing based on how they have designed their intelligent email marketing and automation system.
Infusionsoft makes it mandatory for you to purchase their $2000 Kick Start Package with all price plans. This package is designed to make sure that you are able to take full advantage of what Infusionsoft offers by having a few personal coaching sessions.
Here is what's included in the Kick Start package:
Coaching from a Dedicated Marketing Mentor i.e. your own personal mentor at Infusionsoft
Assessment of Your Current Marketing Processes
Development of Your Marketing Automation Plan
Assistance Setting Up Two Campaigns in Infusionsoft
"Flex-Blocks" for More In-Depth Services
Other than their Kick Start Package, you can also hire them to do more for you for additional charges including data transition i.e. importing your data, coming up with a marketing strategy, setting up shopping carts, affiliate management and anything else that you may need help with.
Is it Possible to Get a Discount on Infusionsoft Pricing or Kick Start Package?
This question comes up often. From time to time Infusionsoft offers limited time discounts on their Kick Start Package up to 25%. The best way to get a discount is to show them how serious you are about signing up with them and then try to negotiate. To begin with, get their free demo, after which they will give you a follow up call. At that time advise them how serious you are about signing up with them and ask if you can get a discount on the Kick Start Package.
Support: 4

out of 5
Infusionsoft does offer a lot of training videos and tutorials, however getting through to a technical support rep can sometimes take time. They are available on the phone or live chat. We are assuming that most of their calls are long. Hopefully it will have improved by the time we are done writing this Infusionsoft Review. You do get a dedicated and friendly account rep so that you can deal with one real person regarding your other problems like billing etc.
Overall Score:

4 out of 5
Infusionsoft Review – Conclusion:
CONS:
Takes some time to learn how to use their system.
You must purchase a $2000 Kick Start package. The price can be steep for most internet marketers that are just starting out. But the price issue can be argued either way. Infusionsoft decided to add in a coaching component to their membership price so that users can get the most out of it. The system can get very complicated and there's a lot to learn. The coaching cuts down on the learning curve and making mistakes. I wish I had the coaching on my plan it would saved me a tremendous amount of time and headaches so take the option of getting coaching it really counts.
Unexplainable events: I call this because every now then I'll notice a contact/subscriber on my list will get an email they weren't supposed to receive. There's just no way to explain and infusion cant investigate because of all the possibilities that have to be tested. So be careful when it comes to creating your systems in infusionsoft. Make sure that non of tags contradict each other or block each other otherwise you are headed for disaster. But when it does happen due to the application errors their team is very reluctant to help you solve the issues.
Unsubscribe process: when a subscriber unsubscribes from your list in infusion they are directed to a page that asks them if the emails were spam. I have a list of over 100,000 and this was a disaster when we first switched to infusion. We never spam but people clicked the yes button the minute they saw it, but the flexibility of the software allows you to create a custom unsubscribe page.
Pros:
Highly effective Ecommerce, Email marketing automation system and CRM.
High deliverability rates.
Affiliate management… One of the best ways to generate income is to create an affiliate program. The infusion system allows this setup and management is quite easy.
You can create a custom unsubscribe page that can offer subscribers more value or you can add a survey that asks why they are leaving.
If you go over your Spam and complaints threshold it takes only a few hours to get your account back online. Infusionsoft will ask you to take their email compliance test and within 2-3 your account is then activated again. Other companies won't let you email your list until you send them an email asking them to double optpin again.
You can segment your lists automatically once your system is setup.
Overall, the system allows to setup your business the way you want, you just have to find solutions to make it work like you want to.
Support is phenomenal and with events such as Infusioncon where you can learn what others are doing with their systems is always a great learning experience.
Infusionsoft is meant for serious small business owners who own an online business. Their software is powerful and sophisticated and in some cases complicated. They are constantly evolving. A couple of years ago, they got a few negative reviews, however in the recent times, people are mostly speaking high of them. You may not particularly like their aggressive sales approach initially, however we think that if you start to use similar strategies in your own online business, you will end up getting more customers and revenues. Whatever you personal opinion is about their marketing tactics, they do work based on our own personal experience.
They do need to work on providing better support and offer some free training modules for new customers. However, your account rep at Infusionsoft will help you with some basics and there are some free webinars available too. If you are looking for a long term E-commerce, CRM and Email Marketing solution and don't mind spending at least $200 a month, then this is the right solution for you. However, if you are a beginner and are just interested in email marketing, you should look for another provider.
What is Infusionsoft Demo?
Infusionsoft demo is free and will quickly give you an overview of what Infusionsoft is capable of and how it can help you with your online business.
Get Infusionsoft Free Demo
Go to Infusionsoft Website
Go Back to Home Page (Email Marketing Comparison Chart)
Read More Reviews
Please leave your comments below about this Infusionsoft Review.
Please note that if you click on a link and buy a product, we may get paid incentives.