iContact Review

,
We wrote this iContact Review by actually testing their software. This review is unbiased, original and one of the most detailed iContact Reviews available online. In case you don't agree with our iContact Review or just want to provide your feedback about iContact, please feel free to leave your comments at the bottom of this page.
Features
Price
Deliverability
Newsletter Creation
Ease of Use
Support
iContact Review: Conclusion (Pro's and Con's)
iContact – Company Profile
iContact was established in 2003 in USA and is operated by Vocus – a company specializing in PR and marketing software. Vocus is headquartered in Beltsville, MD (USA) and has offices in North America, Europe and Asia, whereas iContact has its headquarters in North Carolina (USA).
Features:
3 out of 5
iContact offers most features that you will need for your email markting campaigns: autoresponders, tracking reports, social media integration, online archives, API, segmentation, split test, integration with several online applications and mobile devices, iPhone and Android apps to manage your campaigns. The latest iPhone app can be downloaded directly from their website.
Some of the features that are missing are stock images (neither free nor paid), Google analytics integration with regular accounts (only enterprise and large senders can use this feature), fancy sign up forms (only basic form is available that you can place on your website). There are no templates available for the sign up forms. You cannot change the size of the sign up form or add any images. It is important to have an attractive sign up form in order to capture more leads on your website. You can custom build your own form if you know HTML – which again can be more time consuming even if you did know it. There is no auto RSS to Email feature available.
Pricing:
3 out of 5
iContact pricing is at par with most competitors, but is not the lowest. Custom quote is available for large senders. Annual pricing gets 15% discount. Non-profit organizations get 20% discount.
iContact has put a limit on the messages that you can send to your subscribers. The limit is based on 6 times the number of subscribers in your plan. This means that if you need to send out your newsletters more frequently, then iContact may not be your best option.
5MB storage is free. You need to pay 10% more to get 10MB and 20% more (on top of your price plan) to get 25MB storage. This means the more you spend on pricing with iContact, the more expensive their image storage gets. Most other companies will offer you additional discounts and charge less if you spend more, so maybe they should pay more attention to their pricing strategies.
Deliverability:
4 out of 5
Overall iContact's deliverability is good. This ensures that your messages will easily make it into the inbox of your subscribers. Here is our analysis of some of their IP addresses.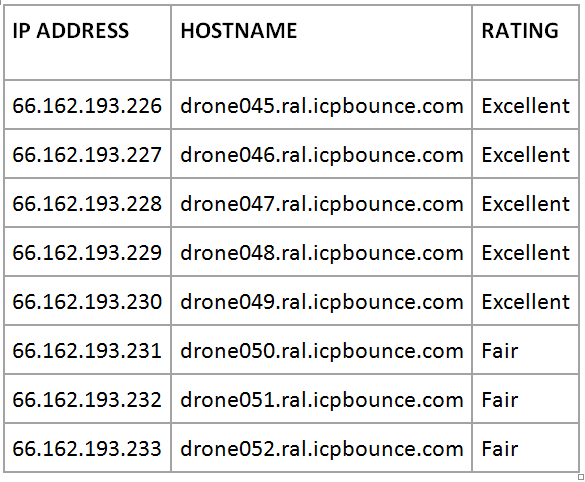 Newletter Creation:
3 out of 5
iContact offers four options to create an email newsletter:use their HTML/Java based email editor, use plain text only, use your own code or based on your website – which imports the homepage of your website into the email editor. Most users will use iContact's email editor. The other options are for advanced users, other than using the plain text option, which only a few people will use.
The email editor offers inbuilt spell check, spam check and preview. You can preview your message on a mobile device, desktop and also send out a test message to yourself. However, previewing your message only means that this is how it should display ideally. Their templates are mobile friendly, so they should display well on various mobile devices. They do not offer any inbox check option, so you wouldn't be able to know how well your email newsletter will display on various email programs, like Gmail, AOL, Ymail or mobile devices like iPhone or Android. This service is currently offered by other email marketing software providers like GetResponse and Benchmark Email.
iContact does not offer any free or paid stock images unlike other competitors. Stock images help you create a unique looking newsletter each time you send out a message. There are over 650 templates available to create newsletters. You can add social media buttons and post your messages on your social media accounts.
After creating a newsletter and just before sending it, there is no option to go back and edit it, other than using the browser back button, which may not always work well. As a workaround, you can access the email draft and then click on the edit option. This involves a few extra steps, which is a little inconvenient.
Ease of Use:
4 out of 5
We didn't have any issues using iContact interface and found it easy to use. There is a pop up help screen at the top right corner which can be maximized so that you can instantly access useful information.
Support:
3 out of 5
iContact offers professional support and friendly service via live chat, phone support and email support. There is no live chat or phone support available on Saturday, Sunday or overnights between 10 PM to 4 AM (EST).
Overall Score (iContact Review):
3.3 out of 5 (Average)
Conclusion
Con's:
No fancy sign up form
No stock images (free or paid)
There is a limit on the number of emails that you can send out
No live chat/phone support on weekends/overnights
Pro's:
Professional service
Choice of many templates
Good deliverability
iContact offers an average email marketing software. Pricing can be expensive for frequent newsletter senders. Most basic features are available for your email marketing needs.
Go to iContact Website
Go to Home Page (Comparison Chart)
Read More Reviews
Please leave your comments below for i Contact Review. If you don't agree with this iContact Review or just want to provide your feedback as a user of i Contact, please share your thoughts and opinions.