Benchmark Email Review

,
We wrote this Benchmark Email Review based on actually testing their email marketing software. If you have used Benchmark Email and would like to provide your feedback, you are welcome to do so by leaving comments at the bottom of the page, which will help others also. This is one of the most detailed Benchmark Email Reviews that is available.
Benchmark Email –

Company Profile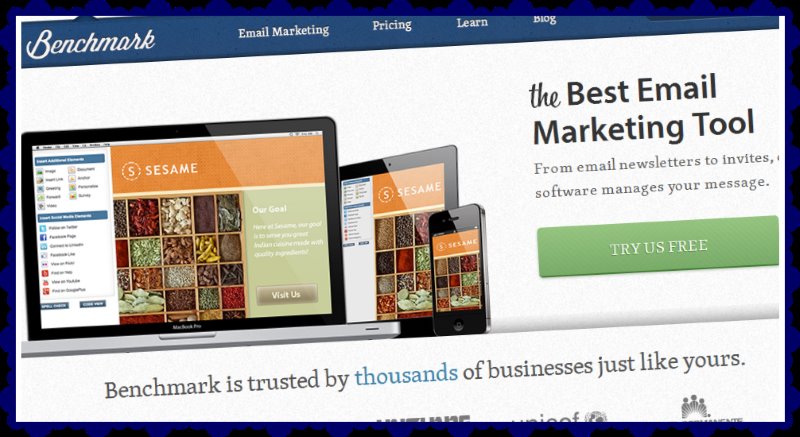 Based in Los Alamitos, CA, USA, Benchmark Email was established in 2004 and has a subscriber base of over 73,000 customers. Visit Benchmark Email Website
Features:

4 out of 5
Benchmark Email offers most of the features that an email marketer needs. Benchmark Email staff actively solicits feedback if a user needs a new feature and works on implementing it. Right from creating sign up forms to viewing the results of your campaigns after mailing them, Benchmark Email offers a lot of flexibility to users to customize its features.
You can insert your logo in the sign up form and change its color schemes. Social media integration lets your subscribers easily share your newsletter with their contacts. Newsletters are archived online where they can be viewed by your subscribers and even non-subscribers if you wish to share them. This feature is offered FREE of charge. Real time reporting lets you review delivery, bounces, opens, click through rates and unsubscribes. You can even check from which part of the world and specifically from which area of a certain country your subscribers read your newsletters. This is an awesome feature. Surveys and polls feature (FREE!) lets you send unlimited number of survey questions and view real time results.
You get 10MB of free Image hosting, which is upgradable by paying an extra charge of $5 for which you get 50MB. 10MB can be sufficient for moderate usage. Other features include Google Analytics integration, iphone application and video emails. They do not offer stock images (free or paid), which would be a nice feature to get. At this time Benchmark Email does not offer split testing but they do offer segmentation.
Event Marketing is an additional paid feature, which is not a part of their email marketing package. There is just one word to describe it: "Awesome!" We'll be writing a detailed review separately about it shortly. Stay tuned!
If you are a high volume sender i.e. if you plan to send out over 100K emails a month, then you get a dedicated IP address. This means that you won't have to share your IP with any other customer and if you don't send any spam, then you will have much better deliverability rates. Benchmark will set up a new IP address within 48 hours after you sign up for a high volume plan.
Price:

3 out of 5
Benchmark Email offers a flexible structure of price plans and is one of the lowest among their competitors. They offer two types of pricing structure based on your needs – per email and per subscriber based. The subscriber or list  based pricing can be more economical if you are a frequent sender. The lowest list based price plan starts at just $11.95 per month for 600 contacts. However, there is a catch. If you send an email newsletter for more than 7 times per month, you will need to pay an additional charge per email. If you are planning to send your newsletters more frequently, then this may not work for you.
The price plans include free surveys, polls, 10MB image hosting and web archives. Non-profit organizations get 25% off their pricing. For $149.95 per month, you can get them to do your email campaigns (2 per month) and pay $50 for each additional campaign. This can be a real time saver if you can afford it. They also offer paid custom template creations for your emails.
Deliverability:

4 out of 5
This score will give you an idea about whether your messages will make it to the inbox if your subscribers. The higher the score, the better are the chances. We checked the deliverability score for a bunch of their IP addresses on a third part website. Their overall score is good and has improved since last year. The following image shows the deliverability ratings of some of their IP addresses based on our analysis of third party reports.
Newsletter Creation:

4 out of 5
Benchmark Email offers a highly flexible drag and drop newsletter creation tool that makes it really easy to customize your email messages. Creating a newsletter and making changes to it is a breeze with Benchmark's email creation tool. It's like having a remote control in your hand to customize your newsletter. Benchmark's newsletter creation tool includes a huge collection of a variety of templates and check spam score before your email goes out. Spell check feature is also available. They offer a huge collection of free templates, however they don't offer any free or paid stock images unlike Getresponse. You have complete control over the template colors and change them easily. RSS to Email lets you automatically send newsletters when you update your RSS feed (with option to choose the frequency).
Ease of Use:

5 out of 5
Like other providers, it takes a couple of days to get used to Benchmark Email's interface and features, however with eye catching icons and user friendly layout, you will be cruising through them in no time. Overall easy to use, flexible and intuitive interface. They offer one of the most user friendly experiences.
Support:

5 out of 5
Support staff is friendly and you can contact them via live chat right through your account or call them on a toll free number or via email. Benchmark Email offers technical support via live chat available 24×7 which is currently not being offered by their competitors. We have tried their live chat several times and would have to say that they offer the best support. You never get stuck while using Benchmark email because the support staff is there 24 hours via live chat.
Overall Score (Benchmark Email Review):

4.2 out of 5
Conclusion:
CONS:
No free or paid stock images offered
No android app to control your campaigns (iphone app is available).
Pay extra to send more than 7 email campaigns per month.
PROS:
Free surveys and polls
Free email archives
User friendly
24×7 Technical support via live chat
Flexible email editor (newsletter creation tool)
Dedicated IP address for high volume senders
Benchmark Email is one of the most user friendly email marketing software based on our testings. The newsletter creation tool is flexible and can be learned within a few minutes. Even if you are a beginner, you won't have any problems using their system. Most features that are needed for email marketing are available with Benchmark Email.
Compare Benchmark Email Features with Other Providers
If you have used Benchmark Email or if you don't agree with this Benchmark Email Review, let us know. Your views will help others who are considering buying Benchmark Email. Please note that if you click on a link and buy a product on this website, we may get paid incentives.
Please provide your comments below if you have used Benchmark Email already or if you don't agree with this Benchmark Email Review: