Aweber Review

,
We wrote this Aweber Review based on actually testing their email marketing software. This is one of the most detailed Aweber Reviews that you will find online. If you have used Aweber and would like to provide your feedback, you are welcome to do so by leaving comments at the bottom of the page, which will help others also. If you don't agree with this Aweber Review, feel free to express your opinions.
Aweber – Company Profile:
Aweber was established in 1998 and was the first email marketing service provider to create autoresponders. Located in Chalfont, PA, USA, the company employs over 110 people and has a customer base of over 120,000. Aweber has won several awards including Best Places to Work in PA 2014.  Visit their website here.
Features:

4 out of 5
Aweber offers most features that should be in the arsenal of an email marketing software user. From snazzy animated sign up forms to segmentation to a variety of reports, Aweber offers a little more than what comes with a standard email marketing software.
Some of the distinct features include free email archives that could be customized to include your own banners. Aweber can be integrated with many 3rd party providers like shopping carts, WordPress etc. using their API. It is quite easy to use the features offered by them because of their friendly user interface. Other features include RSS to email, autoresponder and tracking reports. Sign up forms can easily be customized. You can insert your own image (this can only be done by inserting a URL where the image is hosted) and adjust the colors and size. Messages can be sent out in multiple languages.
You can insert free stock images to give a unique look to each of your broadcasts. iPhone and Android apps help you manage your campaigns on the move. Google Analytics integration is available. You can automatically send update to your Facebook page and Twitter followers whenever you send out a broadcast. Integration with your blog account is also available.
You can store unlimited images in your Aweber account as long as each image size does not exceed 10MB.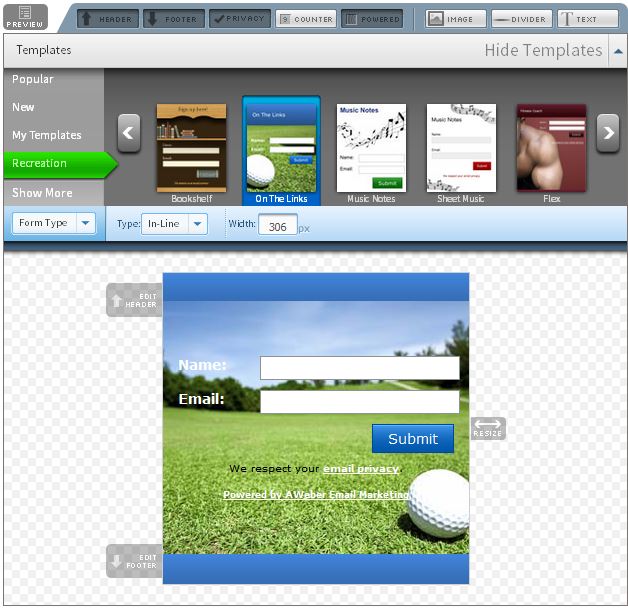 Price:

4 out of 5
Aweber pricing is reasonable. Each plan comes with unlimited free images storage, over 3000 stock images and online archives. You can send unlimited messages and the pricing is based on the number of subscribers.
Discounts are available for students and non-profits. The price plans start at $19 per month for 500 subscribers and go up to $149 a month for 25K subscribers. For more than 25K subscribers, they will provide you a special quote. Discounts are available for long term subscriptions, no-profits and for students.
Deliverability :
4 out of 5
This score will give you an idea about whether your messages will make it to the inbox if your subscribers. The higher the score, the better are the chances. We checked the deliverability rate of the IP addresses of Aweber on a third party website. Their scores range from medium to high. That means most of your emails will directly go into the Inbox. Overall their deliverability rates are good. Here is our deliverability analysis of some of their IP addresses:
Newsletter Creation:
3 out of 5
Aweber offers a drag and drop and also HTML editor based tool to create your newsletters. Of course, you can send them in plain text format also. Their system automatically checks the spam score of your message after you have created the message and before you send it out. Messages can be sent right away or at a later time and date. You can test a message before sending it out. There is no spell checker available.
Compared to their previous email editor, we find the recent version of their editor a little less easier to use. The templates can only be viewed in a little larger thumbnail size, so you don't really get to see it in the actual size making it hard to determine whether it is the right template for you. There is no preview option for templates in the editor. It would be helpful to be able to check the spam score on the editing screen instead of in the next step. There is no mobile preview (how it will display on a mobile device) available either – a feature now offered by some other providers like GetResponse and Benchmark Email.
Aweber offers over 150 templates. Some of them also offer color pickers i.e. you can choose which color you want on the template. This is a unique feature offered by them.
We encountered some problems with their editor. One template that we tried in Firefox didn't display the images in the template, while another one that we tried in Internet Explorer didn't get changed when we picked a new template (see the image below). On the right, it shows that we selected the template "Boxy – Grey" whereas the template that's showing in the editor is "Wanda". :
Ease of Use:
 4 out of 5
Overall Aweber offers friendly user interface and it is quite easy to use most of their features even without viewing their tutorials. There are some opportunities to improve, for example, if you click on help in your Aweber account, the help screen takes over and you have to go back to whatever you were doing using the browser back buttons. The help page should open in another browser or pop screen.
Support:

4 out of 5
Aweber offers professional and friendly support. They offer video tutorials, step by step instructions and finding an answer in their FAQs is quite easy. They also offer email support, phone support and live chat in case you need to contact them. There is no support staff available overnights between 8 pm to 8 am EST or 5 pm to 9 am on the weekends.
Overall Score: 3.7 out of 5 (Fair)

CONS:
No inbuilt spell checker in email editor.
Cannot preview full size templates in email editor before using them.
No mobile preview available.
Changing a template didn't work in our test.
PROS:
Beautiful templates.
Customizable sign up forms.
Good deliverability rates.
Free online email archive.
Unlimited image storage and free stock images.
Aweber has been around since 1998, offers professional service, support and is only focused on email marketing vs. their competitors who offer other services like event marketing, surveys etc. additionally. If your core requirement is email marketing, then Aweber may be a good choice. Their deliverability rates are good and the interface is quite easy to ease. We like their colorful newsletter templates and sign up forms. They do need to work on making their email editor better. Mobile preview is an important feature that they currently lack (when we wrote this review.)
Recent Aweber Updates
May 19, 2015: Upload photos directly from your mobile device to Aweber image gallery. Select a photo on your mobile device and choose the Atom app icon.
April, 2015: 30 day free trial is now available. Check follow up stats using Aweber mobile app. Import subscribers without getting them to opt-in again.
March, 2015: Aweber now supports unicode, a character set that allows you to include foreign characters, symbols and emoticons (or emojis) in your emails.
Nov 18, 2014: Aweber introduces Atom – Aweber's newest mobile application that you can use to grow your email list. Hand your mobile device to your subscriber and let them enter their name and email address – which will automatically be added to your list. App is available at Google Play and App Store. Use it at your business location, tradeshows, at the gym, at meetings or on the train (etc.)
If you don't like this Aweber Review or if you have used Aweber and would like to provide your feedback, please share your thoughts and opinions by providing your comments. Your comments will help others who are considering using Aweber for their email campaigns. Please note that if you click on a link and buy a product, we may get paid incentives.